I would like to introduce to you Just Fuel Petroleum Services Pty Ltd.
We are a Second generation family owned Independent fuel distributors and have been servicing the independent service stations and transport companies for over thirty years.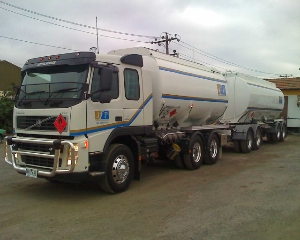 JUST FUEL PETROLEUM is all about a relaible supply service perfected over the years, running a well maintained fleet to make sure you always have the products to sell your clients, or keep your own fleet on the road as we understand, lost time is money.
Here is a little history of where we started giving you the insight to where we are headed in the future giving you peace of mind that "we are reliable suppliers" and will be for a long time into the future.
How it began
Michael Gaffiero migrated from Malta and came to Australia in 1956 and worked as a motor mechanic for 3 years then opened a Total service station in Deer Park then another in St Albans, five years on a change into trucking was the trend so then purchased a semi trailer and was travelling Interstate carting general freight and noticed the fuel was expensive at 20 cents a gallon so in 1980 Michael purchased a small tanker and sold the service stations and started selling fuel to transport companies and some service stations.
As the company grew so did Micks name, then started selling fuel to the branded company sites so the oil companies Branded Mick with the nick name "MIDNIGHT MICK" as Mario was one of his father's drivers delivering fuel to the company site after dark.
And so the god father of the Independents and the war started oil companies against the Independents, Michael gave it away at the age of 75 years old and closed the company down to retire.
The beginning of Just Fuel Petroleum
Mario Gaffiero, a Diesel motor mechanic by trade worked for his father as a driver and mechanic for 6 years then went out on his own as, like his father, bought a truck travelling all over Australia delivering general freight.
Mario decided to reopen the family company which was dorment for a period of time and named it Just Fuel Petroleum back in 1995 with 1 truck working out of a warehouse. Mario's brother Colin went to work for Mario as to his nephew Jamie, they took over the old Fuel Depot that Mario's father still owns and put extra tanks underground to be able to store fuel and distribute products.
Thirty plus years later Just Fuel is one of the most successful Independent fuel wholesale and Distributors in Victoria with a large file of clients, and carries licences to Blend Ethanol to Petrol and Soy Bio with Diesel doing their part in climate change to reduce the carbon foot print.
Just fuel also retails B20 Bio Diesel and Unleaded Petrol from its Depot in Sunshine. Besides their own impressive client base, Just Fuel freights petroleum fuel for other companies covering Victoria, New south Whales and South Australia.
With Mario's extensive history in motor cars and motor racing in different classes over the years. Knowing different types or cars require different fuels you couldn't find a better person with his extensive knowledge in this field who could mix a cocktail for a race car.
Just Fuel Petroleum also saw a market it could capture in Developing, Blending and Manufacturing High performance fuel for High performance race cars, hence Cheetah Race Fuels was born becoming one of the widely used race fuels across our country.